From offline to online. A CAD and ERP integrator builds their digital presence.
A HARD NUT TO CRACK
The Challenge
CDC Development is a part of PSP Group focused on delivering the right and always current data to production departments. Sounds easy? Maybe, but reality shows it's not easy at all. As always, the devil lies in details, meaning, in the way particular software systems use and process data. 
CDC Development experts are able to build systems that control technical documents in such a way that all information is passed to the right person at the right time. 
Back in 2020, when the COVID-19 pandemic bursted out, it became clear that a sensitive matter such as data integrity in production teams will be very difficult to sell without an in-house engineer who drives from one client to another.
That's why the board of CDC Development made a decision to build a website that helps presages engineers communicate business values that come with bespoke solutions offered by the CDC team.
So we entered the project keeping in mind that the new website had to reflect three main objectives:
Minimalistic yet original desig

n – engineers don't like exaggeration.

Communication – concise, without meaningless fillers

.

Story

– no one can do this job as good as CDC.
It turned out that CDC was struggling to find a partner who would understand what CDC does, would be able to build a dialogue with engineers, and in return, would build a modern and original creation.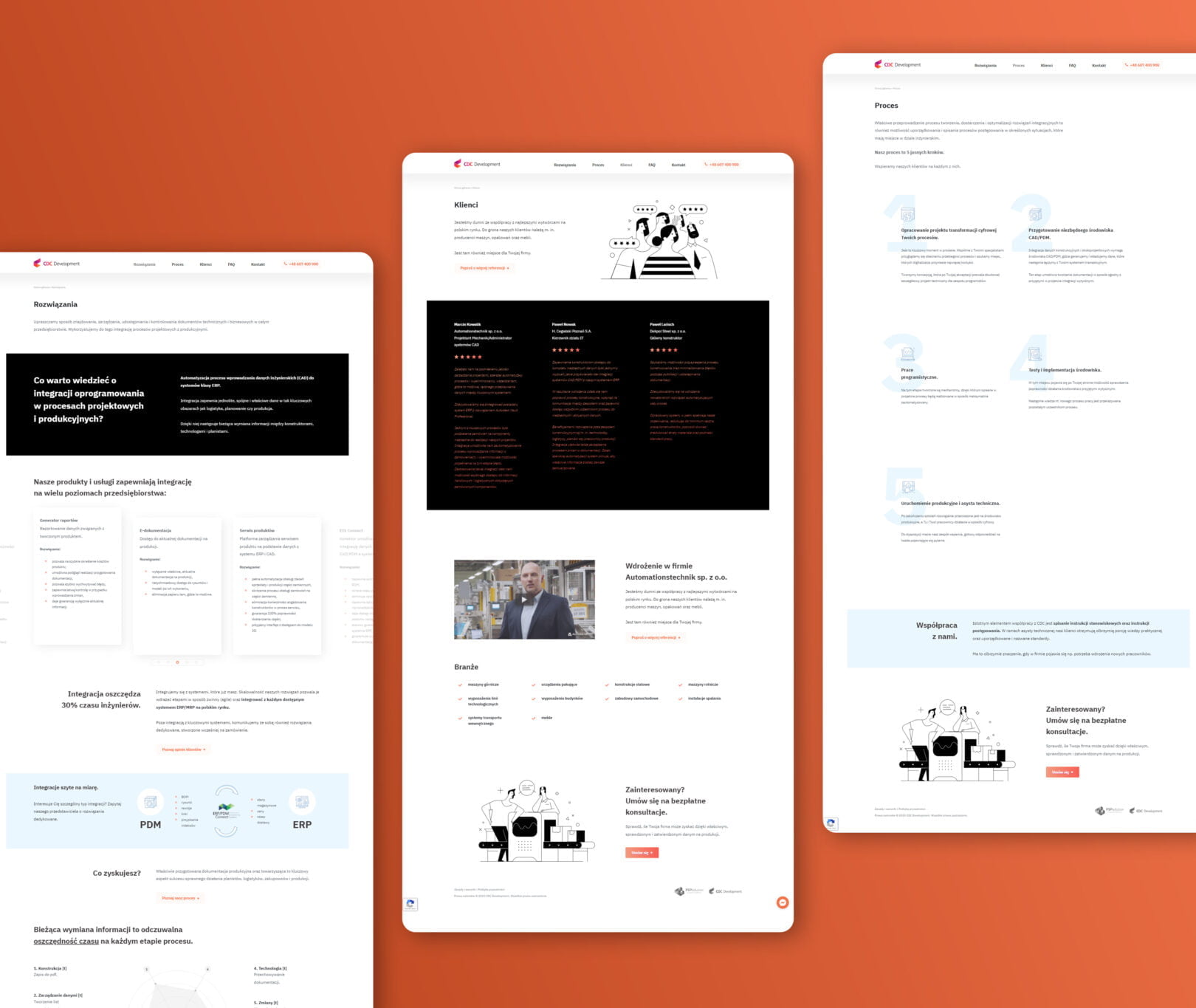 HOW DID WE CRACK IT?
The Approach
Since we were dealing with a specific industry, and our client feared an agency would not be able to understand what an integration of production systems means, we decided to set up a process in which our client could take a sneak peek into our work (both analytical and creative) on a regular basis.
The creative process:
Online workshops

to collect project requirements regarding the voice, communication character, values for CDC clients we should communicate on the website.

Creating the

architecture and logic

of the website and building mockups in Adobe XD.

Creating

personas, keywords analysis

, and choice of main problems CDC clients are faced with.

A

series of online meetings

with CDC experts to deepen our knowledge about the sector and to learn how CDC works with their clients, what are the common use cases and what are the most valuable case studies.

Gradual design

of following subpages, which (accompanied by appropriate copy), were regularly presented to the client for feedback.

After CDC accepted the whole project, our

development team coded and secured the website

. 
Thanks to using a regular feedback loop, our client could be sure we managed to understand the specifics of CDC work, the vocabulary they use, and most of all, the problems production engineers face in their everyday work.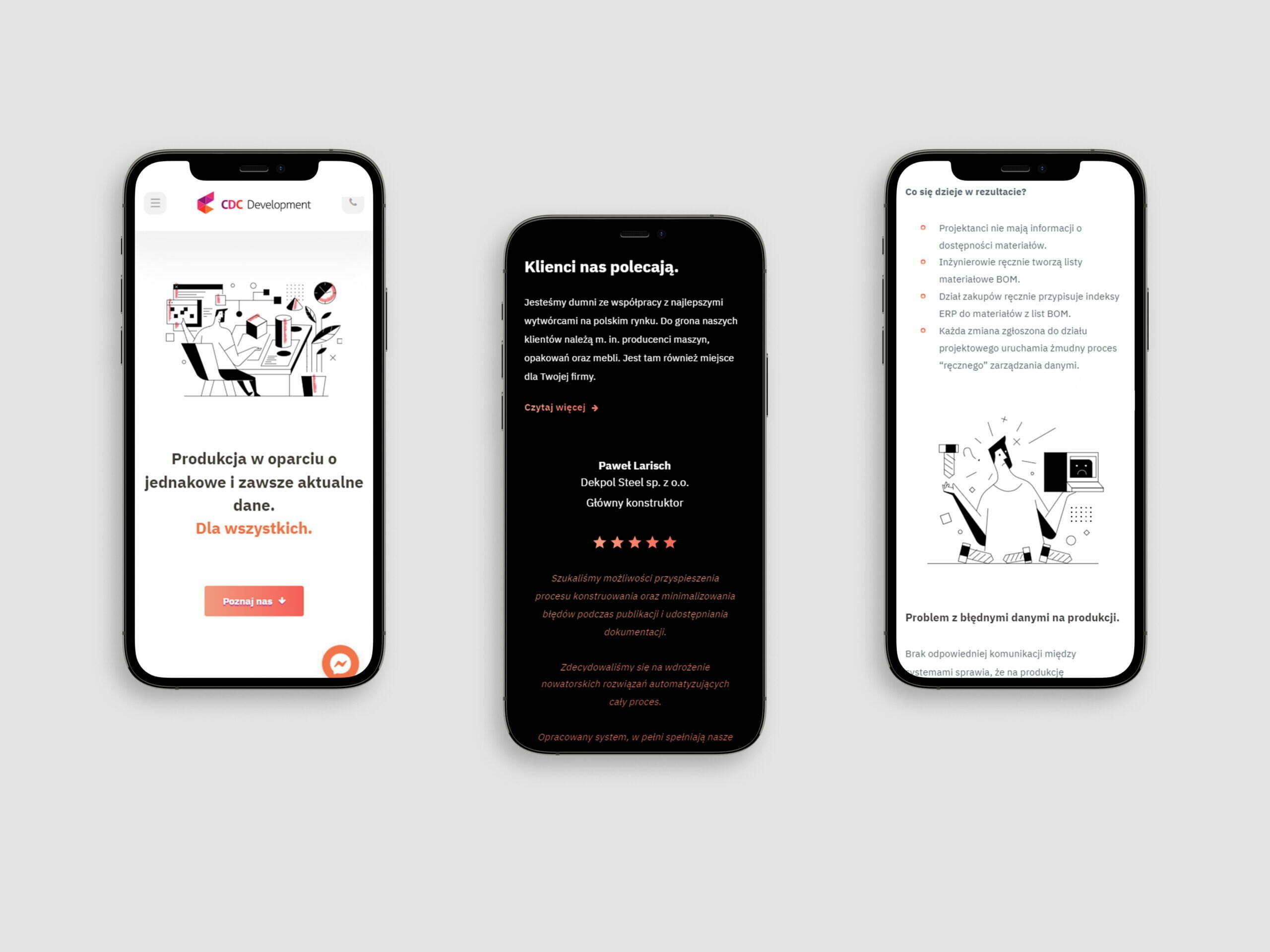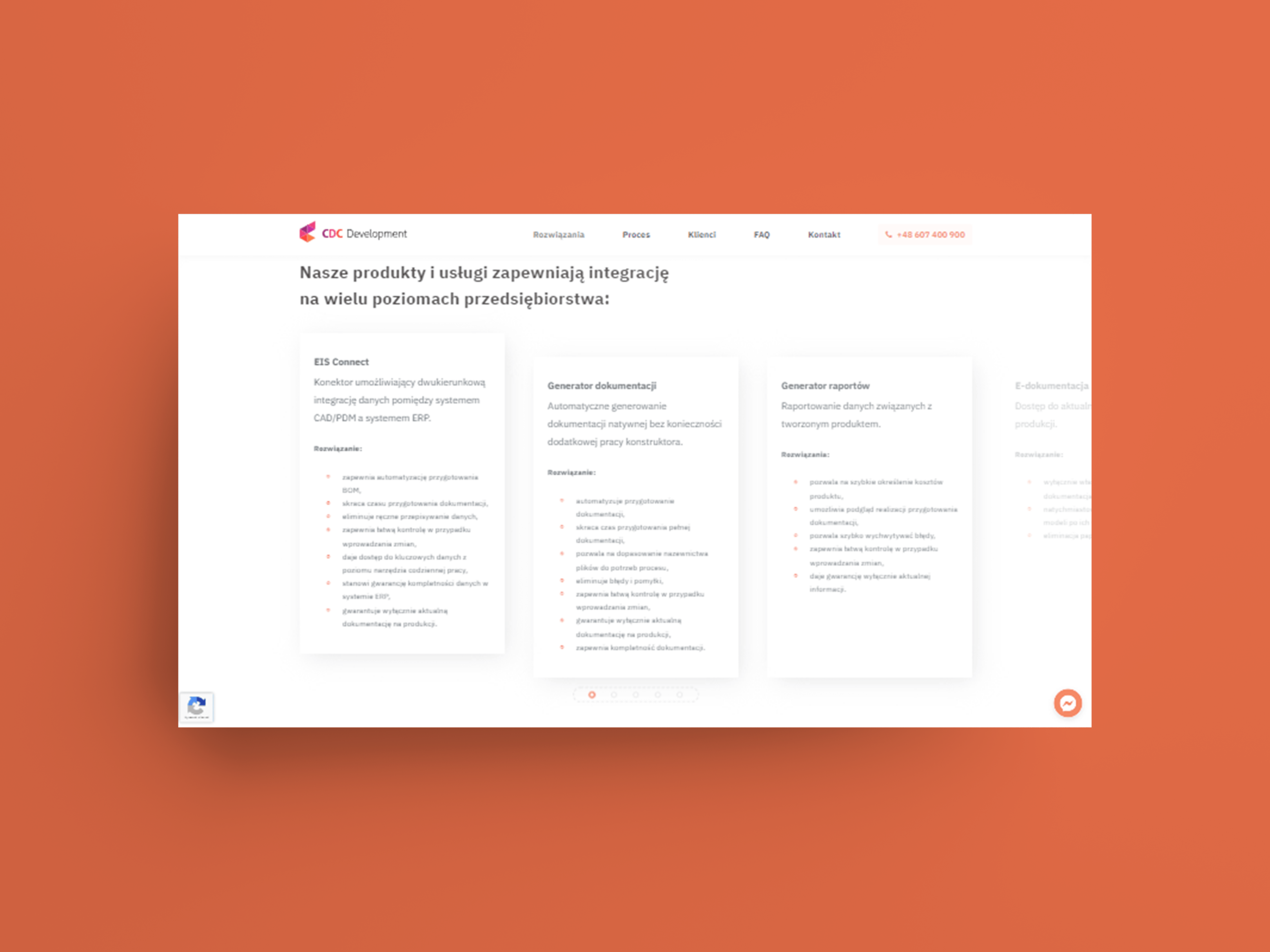 Results for the CDC Development website
Outspoken, rich in educational content and still easy to follow – that's the new website of CDC Development – a company that changes the way production engineers work.
The site is built with WordPress and a

layout individually designed by Wise People

.

Custom illustrations

enrich the communication and add a human touch to tough technical topics.

Clear and colourful Call To Action

stand out from a black and white design and navigation the user through the page.

A separate FAQ page

aggregates the questions sales engineers need to answer regularly. Hence, it helps them keep the answers short and consistent. Sales team can also send a link to the page as a part of a follow up after a meeting with potential client.

Numerous implementation results and clients testimonials

(also in a video form) show CDC Development as a credible and trusted partner.