Fresh and light design, modular structure. Website for Briisk Software House.
What did the customer need?
The challenge
The key problem that the Briisk Software House faced was that their website at that time was very difficult to manage, and its development was dependent on the developers.
It was made in technologies that the company used in its own specialized implementations, which meant that each change required the intervention of developers who were busy with other implementations, and distracting programmers from implementations for customers is a waste of money.
The goal was to design a new website that, thanks to its modular structure and the use of WordPress, could be easily operated by non-technical people from the marketing department. It was to enable them to use various Call to Action locations and other user engagement mechanisms, from e-books to newsletters, and even creating thematic Landing Pages for a specific type of service offered.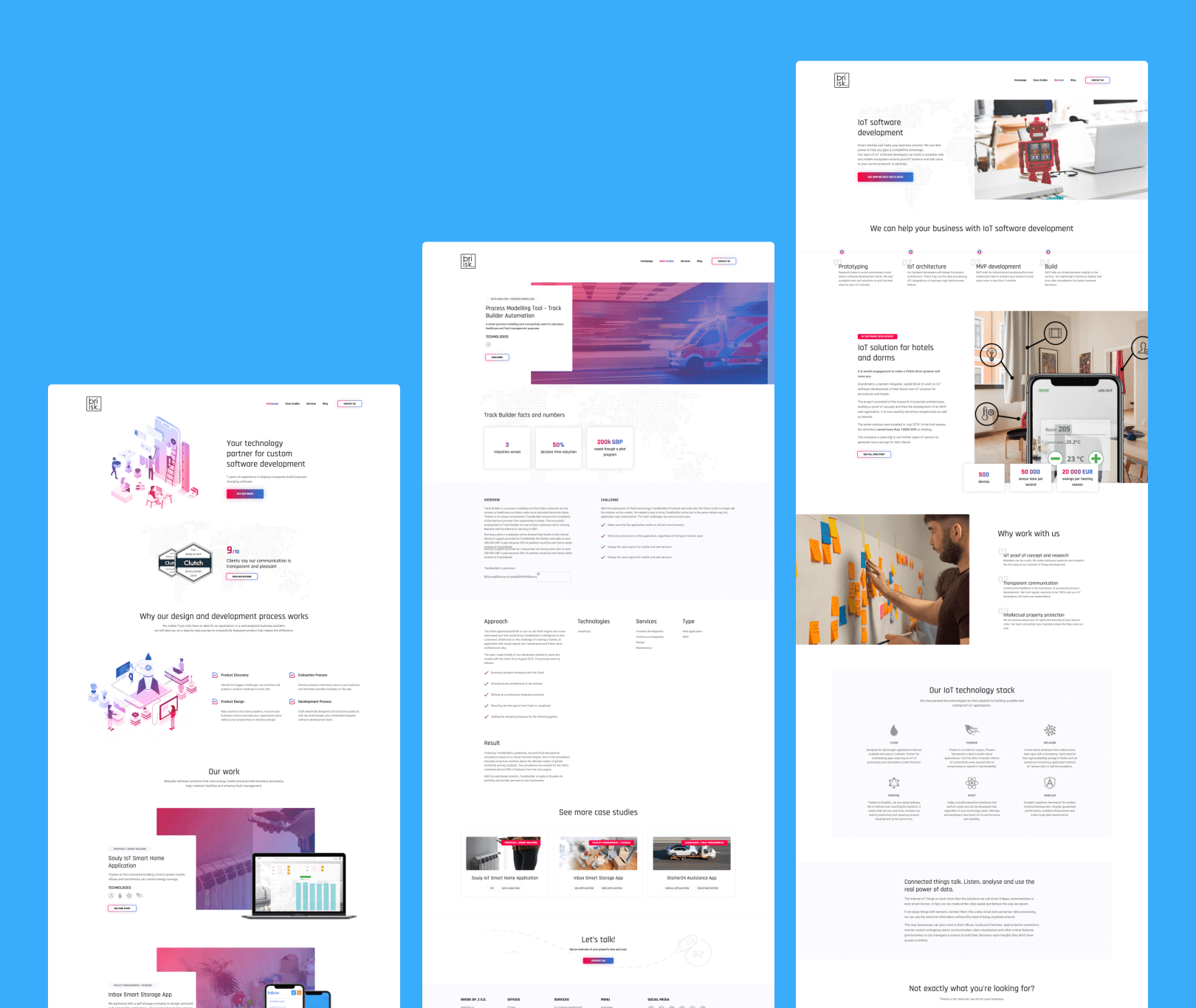 How we approached the issue
The approach
We started working with Briisk from workshops during which the first draft of the website was created. We decided on an approach in which the MVP version is first created (i.e. containing only the most important functionalities and subpages), and then we design the next parts of the page.
This way, our customer could publish the new website much faster and adjust its development to current needs.
As part of the work on the MVP of the new Briisk website, the following were created:
Noting down all requirements for, inter alia, Briisk values, website message, nature of communication, content of basic subpages, etc.
Moodboard, i.e. an overview of interesting projects and inspirations (InVision)
Three versions of the homepage design, on the basis of which the final character of the entire project was created (InVision)
Services, Case studies and Contact subpages design
After launching the basic version, we started designing further subpages and CTA (call-to-action) modules that the customer could freely adjust using the CMS.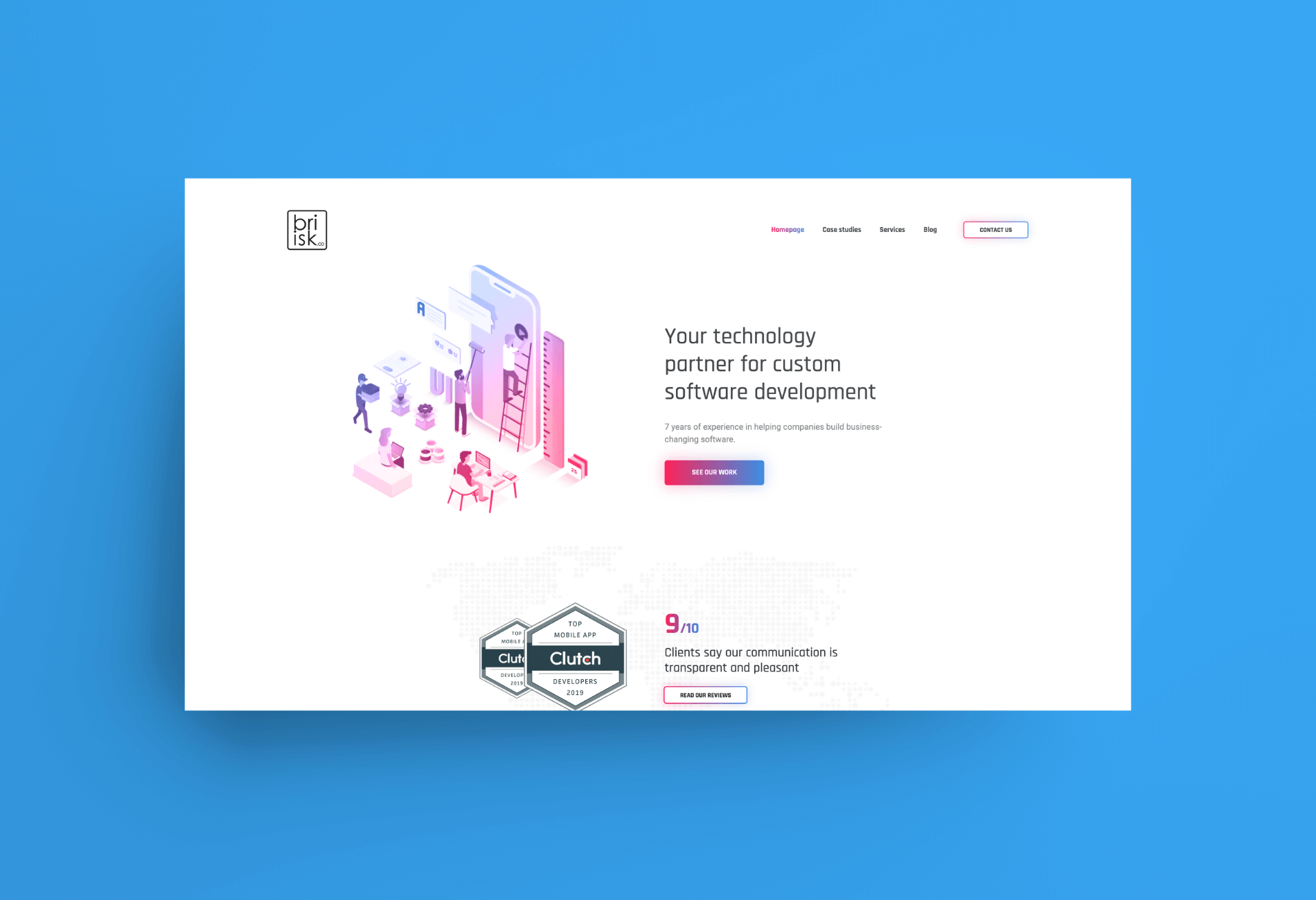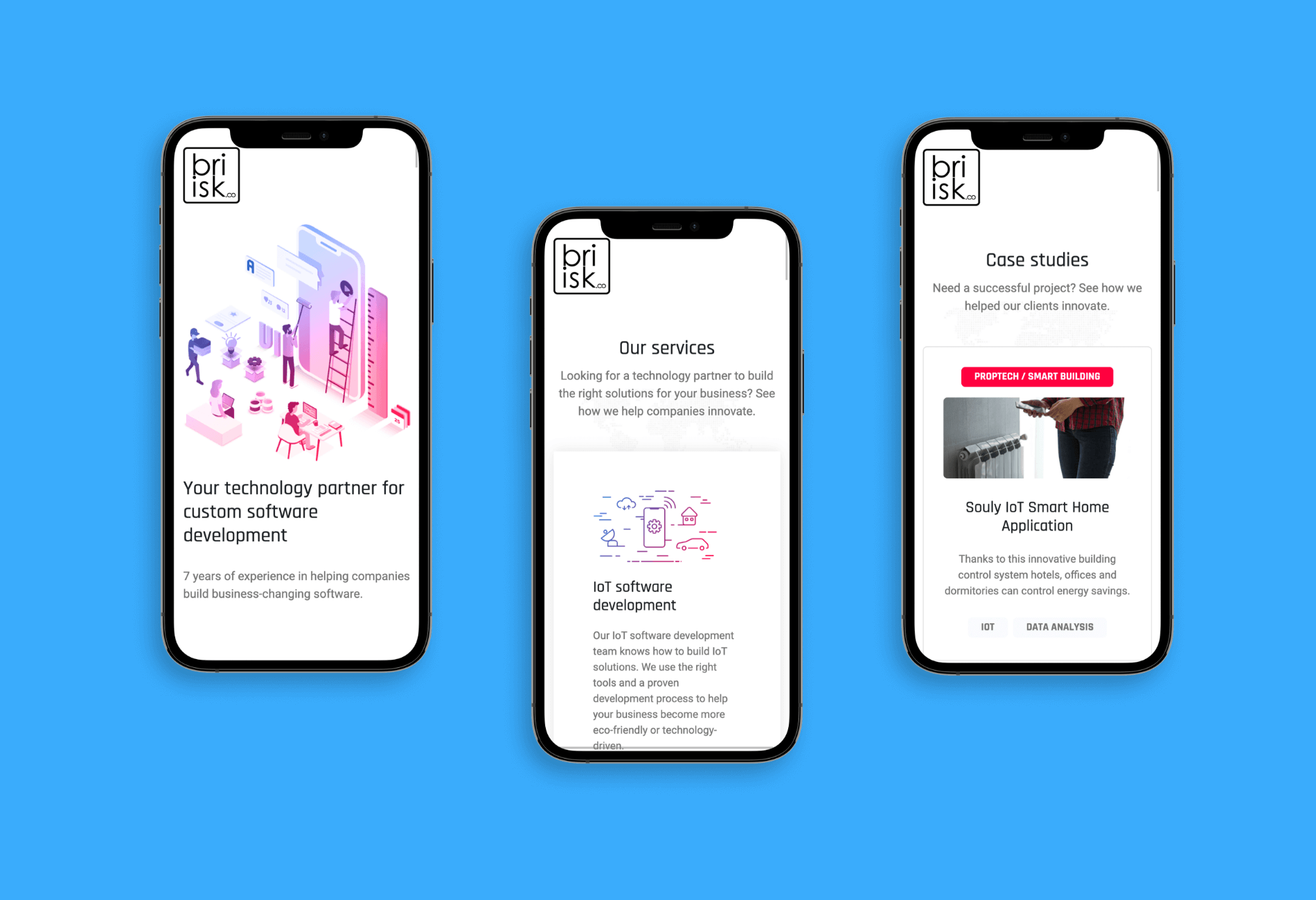 Joanna Chmiel
Managing Partner, Briisk
The Wise People process allowed us to successively work on the website and add new functionalities as the website develops overtime.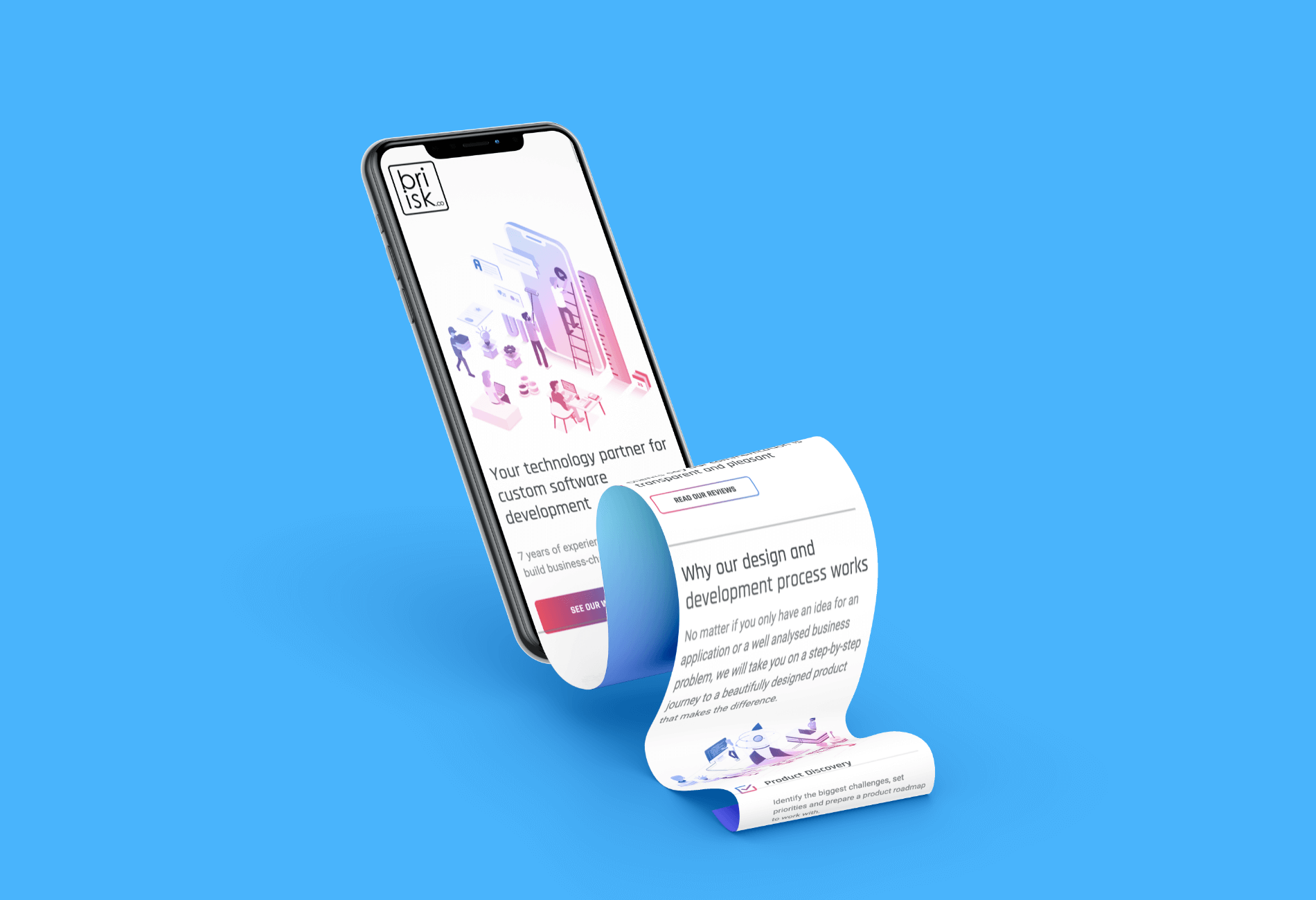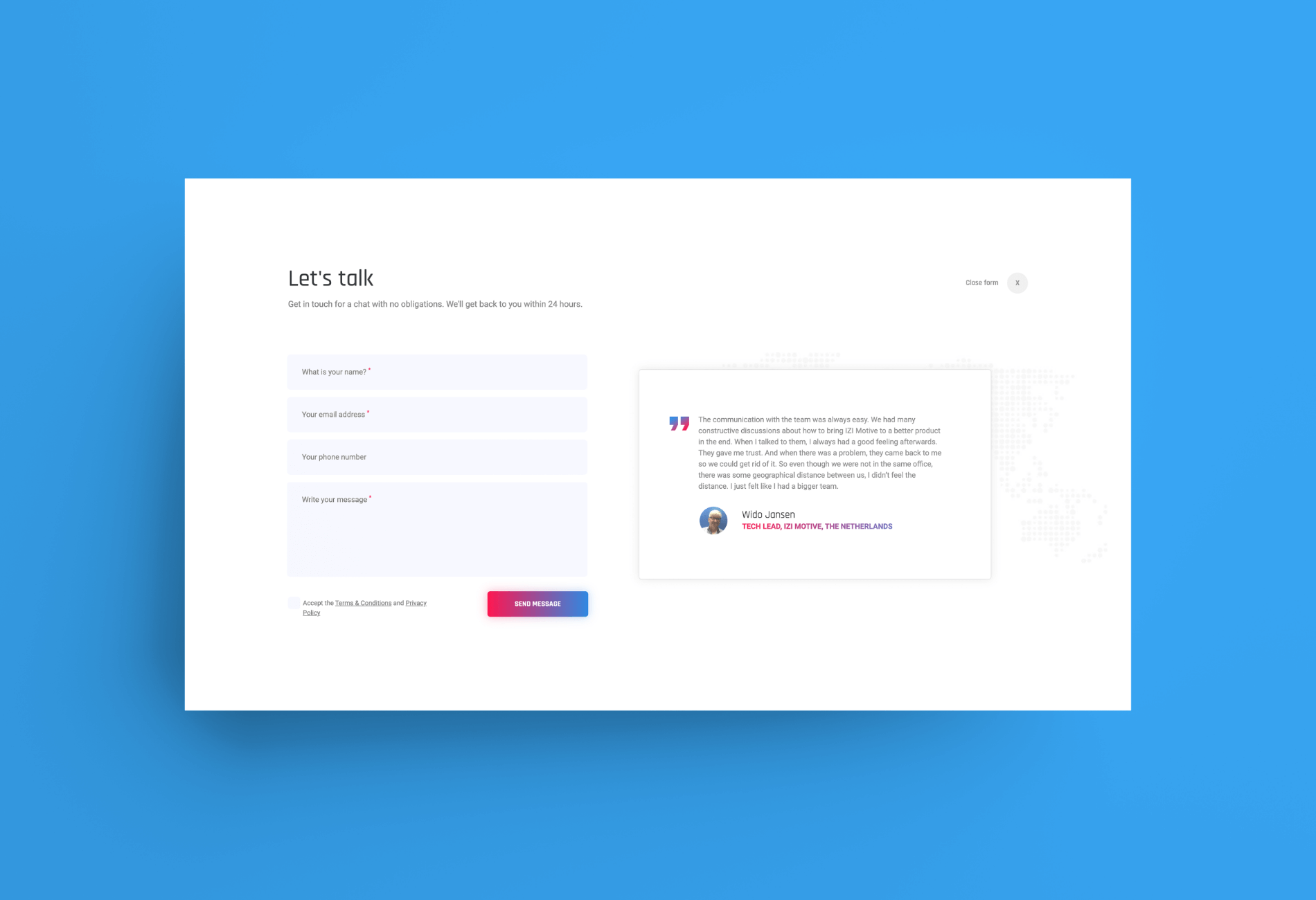 Results for the Briisk website
A light and functional company website in a web and mobile version – based on WordPress, with a dedicated subpage creator.
The speed of loading the website on computers increased from 63 to 95 according to Google Speed Insight
Flexible templates for case studies and services subpages make it possible to freely enable/disable sections on the website
The wizard allows the user to set any order of sections, which makes it easier to test the effectiveness of different versions of subpages
Subpages can take the form of a landing page, which allows marketing to run advertising campaigns directly on the company's website
The designed CTA modules allow the user to download an ebook, subscribe to a newsletter or webinar
Blog articles can be grouped not only by category, but also according to the thematic clustering mechanism recommended by Hubspot
The use of WordPress enables instant integration with the SEO tool and the customer's CRM